Queenstown, Wanaka, Arrowtown & Central Otago…
It is easy to overlook gutters until a problem arises…
But blocked gutters can easily damage your property, are a potential fire risk and can invalidate insurance claims.
With over 28 years local experience in roofing maintenance Gutter Rescue has gutter cleaning solutions for all types of residential and commercial properties.
Gutter Cleans priced from just $199…
Professional Gutter Cleans for all types of residential & commercial properties throughout Queenstown & surrounding areas
Our specialist telescopic vacuum poles mean we can clean up to 3 storeys from the ground!
We use the highest grade commercial cleaning systems and remove all debris from site
We meet all NZ Health & Safety requirements
We pride ourselves on our efficient service from our friendly fire truck!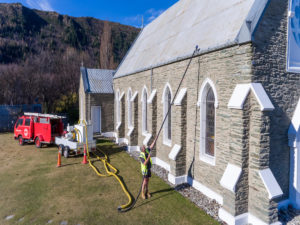 Why use Gutter Rescue?
By having your gutters professionally cleaned you can avoid the following costly scenarios:
Blocked gutters can lead to a blocked railhead. In heavy rainfall the rainwater has nowhere to go and backs up above the roofline, pouring through into the walls of a property. This can cause extensive flooding and tricky insurance claims.
Poorly maintained gutters can become blocked by leaf debris. Tannins from the leaves rust the gutter spouting which then has to be replaced. This is considerably more expensive than undertaking a regular schedule of gutter cleaning.
If gutter spoutings are blocked with debris and leaf matter, chimney fire embers can roll down into the gutter causing serious house fires and endangering life.
By keeping your gutters clear your water quality is improved, as water is not being filtered through the sludge and muck of a blocked gutter.

(Remember: gutters blocked with leaves remain wet for a long time, well into summer and, over time, cause permanent damage).