Comprehensive Safety Solutions for Working at Height
We are proud to be a licensed distributor for the MaxSafe range of specialist "at height safety" equipment.  These innovative products minimise the risks associated with working at height and provide worker comfort at the same time. Ideal for commercial buildings and multi occupancy apartment buildings and complexes where roof height is a safety issue.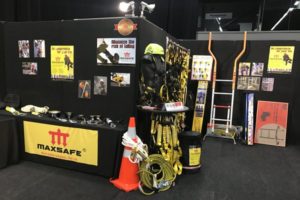 Our Products include:
– Commercial Guardrail Systems, Gates & Mounts
– Harnesses, Lifeline Kits & Lanyards
– Anchor Points
– Safe/Fixed Ladder Products & Accessories
All our products and systems strictly comply with OSHA/ANSI and AS/NZS Standards. They have been designed and rigorously tested to ensure they meet our purpose of providing safe, efficient and cost effective solutions for working at height.
We provide free advice to anyone looking at installing or purchasing this type of equipment and recommend you give us a call first. Our local knowledge means we can recommend the right equipment for each situation.
Talk to the team at Roofsafe for more information or email us: help@roofsafe.net.nz