Superior Metal Spouting Screens that take the hassle and danger out of cleaning spoutings.
Protect your residential or commercial property by keeping spoutings clear and virtually maintenance free. Roofsafe is a licensed distributor and installer of Gutter Solutionz gutter protection guards which are NZ made for NZ conditions.
What is a Gutter Guard?
Gutter guards are a permanent solution to gutter cleaning and maintenance hassle.   With Gutter Solutionz you can choose from 4 durable metal spouting screens which are available in a choice of 21 colours: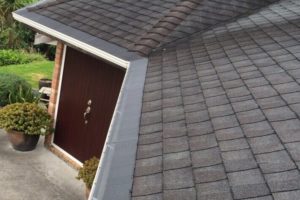 – zincalume, copper, aluminium gutter guards OR opt for the easy to use "Gutter Transformer clip'n fit gutter guard".
Gutter Solutionz products are manufactured to be durable and won't warp or sag over time and only they have a snow strap certified to NZ's alpine conditions.  A clever design allows special louvered holes to drag water into your gutter but keeps unwanted debris out. It will also keep birds and rats out of your roof space too. Either of the systems can also be combined with the "clip'n flush plumbed gutter clean system" for a total solution that frees you completely from gutter maintenance in the future.
The colour of your guards can either match the colour of your roof or create an eye-catching contrast. Each installation is undertaken by the approved Roofsafe team of experts to give you complete peace of mind and we guarantee our workmanship for 5 years.
Permanent gutter guards are particularly recommended for commercial or multi storey buildings where regular access to high placed spoutings can be costly and hazardous to achieve. However gutter guards are also ideal for all types of residential properties and we can recommend different solutions based on your budget and property size.
Talk to the team at Roofsafe for more information or email us: help@roofsafe.net.nz
Why do we use & recommend Gutter Solutionz?
Roofsafe company director Garry Hall has been a roofing specialist for over 30 years. He has seen a lot of different leaf and gutter protection measures in the past but Gutter Solutionz is the best he has worked with.  He was proud to become the licensed distributor for Gutter Solutionz across Queenstown, Otago & Southland.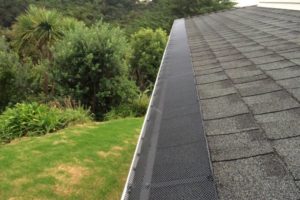 The Gutter Solutionz metal mesh range also has an impressive track record both in New Zealand and overseas and provides a 12 year warranty on materials. By avoiding poor initiations and choosing an authorised gutter guard company you can take the danger out of cleaning spouting and have complete peace of mind.
Before & After: A Gutter Guard Case Study
Just like many residential and commercial properties in the Queenstown, Arrowtown, Wanaka & Central Otago area this property was surrounded by trees. Leaf litter was building up and causing blockages, overflowing gutters and was becoming a maintenance headache for the owners. This property used to require regular gutter cleaning to remove the wet leaves that built up every Autumn and the associated bird and rodent problem that was also present.  The owners made the decision to install permanent gutter guards which prevented leaf litter from building up in the first place and kept out rodents and birds. With a tested snow load that could cope with heavy winter snowfalls, the Gutter Solutionz gutter guards are a year round answer to gutter maintenance.
Before:                                                                                                                                                                After: